Alternative for Germany thinks it has a chance to win upcoming elections following an outpouring of anti-immigrant anger in the country's east, and allegations of Nazi ties may only be working to its advantage.
Posted originally on Buzzfeed News on September 8, 2018, at 10:21 a.m. ET
CHEMNITZ, Germany — "That is what they're actually saying: They want you all dead!" the speaker declared, waving his hand in the air for emphasis. "That's what it's about!"
He didn't use the word, but he was implying that a kind of genocide was coming for the German people, engineered by left-wing parties that support Muslim immigration. The speaker's name was Marc Bernhard, a 46-year-old member of parliament from the Alternative for Germany party (AfD) who had been invited by the city's local AfD branch for a discussion on the question, "Losing control — can Germany be saved?" He spoke at a breathless pace, as if his mouth could barely keep up with the urgency of his words.
"Their declared goal is to get rid of Germany and the Germans — that's what their leading politicians are more or less saying," he said, again aiming his harshest words at the country's left-wing parties.
Bernhard spoke before an audience of around 150 people, a majority of them men and nearly all over 50, gathered inside a run-down meeting space on the outskirts of Chemnitz. After outrage over the killing of a local man turned into violent protests, the city has unexpectedly found itself at the center of Germany's immigration debate and an international outcry about a rising far right.
Many Chemnitz residents saw the killing, for which two immigrants were arrested, as evidence that the hundreds of thousands of Muslims who have moved to Germany in recent years were a time bomb waiting to explode. And a new analysis of crime data in the local press does suggest a spike in crime in the city's center, with young immigrants overrepresented among the perpetrators. The more that politicians like Chancellor Angela Merkel, as well as the press, focused on the neo-Nazis who joined the protest, the more immigration opponents nationwide argued that crying "Nazi" was simply an excuse for elites to continue ignoring them.
And so for many across Germany, Chemnitz has become a national symbol for people worried that Germany was falling apart — but Bernhard and his party saw a chance to build a movement to make Germany great again.
The events in Chemnitz may be rewriting the rules of German politics, allowing more radical voices into the mainstream and sapping Nazi allegations of their power. The AfD, which has long battled the perception that it is racist and authoritarian, has the most to gain from the crisis. And it knows it.
When Merkel announced this week that she would visit Chemnitz, the leader of the AfD parliamentary bloc, Alice Weidel, posted a video on Facebook demanding that the chancellor fire a spokesperson who first criticized the protests on behalf of Merkel's government. "Stop smearing your own people with dirt, get rid of the spokesperson, and say sorry to the citizens of Chemnitz and Saxony."
Otherwise, "you don't even have to show up in Chemnitz at all," Weidel said in the video.
The outcry started with concerns about security, but the AfD wants its supporters to understand that much more is at stake. "We're also losing control of our culture, our traditions, our heritage!" Bernhard said that night in Chemnitz. "It can't keep going on like this! We have to stay in control of our country."
The danger is clear, he said. Judges were removing crosses from courtrooms, the festival of St. Martin was being rebranded as a "festival of lights," and kindergartens were replacing pork with halal meat, he said. Soon, he said, "we won't be the majority anymore!"
"The only thing you want is ... us — the AfD!"
The AfD only won seats in the Bundestag — Germany's national legislature — for the first time last year, but the 13% of the vote it captured with its campaign against immigration was enough to make it the largest party in opposition to Merkel's government.
Next year's elections for Saxony's state government will give the party its first real chance to enter government. It is now polling at 25% in the state, nearly tied with Merkel's Christian Democratic Union (CDU), and it has a real chance to become the largest party in the state parliament.
The AfD's rise in Saxony is driven by voters like Bettina Rehnert, one of the most enthusiastic people in attendance for Bernhard's speech.
Rehnert leapt to her feet to shout down the lone audience member who dared to tell the panelists "there's too much hatred in your speeches." She was effusive when she got her own turn at the mic, telling Bernhard, "I've followed your speech and I have to agree with you. … We've only been taking pointless hits for 3 years. ... I know so many people that now want to see action!"
Rehnert, a 57-year-old with blonde bangs falling into her large glasses, told BuzzFeed News that she knew what it was like to be a refugee. Her parents came to East Germany at the end of World War II after being forced to leave modern-day Poland. She took part in the protests that toppled communism in 1989 and began voting for the center-right CDU. She earned a comfortable living in the new capitalist system, running her own architecture business and helping with her husband's construction firm.
But, she said, she saw that those years were not good for everyone in Chemnitz. The old communist factories were closing, and the city lost much of its population. One of the city's most striking features today are the stretches of decaying buildings from several long-forgotten boom periods of Chemnitz's past — socialist apartment blocks, art deco mansions, and 19th-century train stations.
Rehnert became convinced something was wrong as unemployment climbed in the early 2000s, and she thought the refugees who began to arrive in Chemnitz in 2014 — not the economic crisis — were a sign those hard times were coming back.
Official crime statistics don't show that the city became radically more dangerous in those years — assaults increased some while petty street crime declined — but downtown suddenly began to feel unsafe to Rehnert. She said she remembered a group of immigrant men shouted at her, "Hey, madame ... you want to fuck?"
If that's what they want in Berlin or West Germany, Rehnert said, let them have it. "West Germans feel that the refugees are not so bad as we do because they always had a lot of families of foreigners over there." They'd had foreigners in Chemnitz under communism, guest workers from Cuba, Vietnam, and Russia, but they mostly kept to themselves and left after a short while.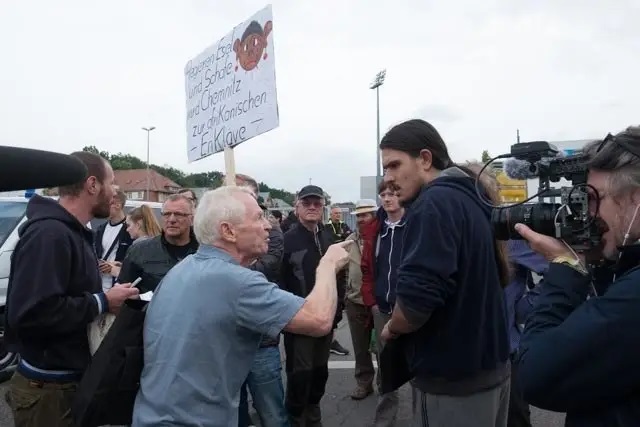 But she worried the people now coming through Saxony from the Middle East would drain money for schools, and other social services would be diverted to support the new arrivals. And she didn't understand why they seemed to be mostly men. When her family was forced to leave Poland, they all came together.
"No father would leave his family behind," she said. "I have to have doubts how desperate [they are] to come here."
She no longer trusts the news, and said that the television is so filled with propaganda it sounds just as bad as it did when it was controlled by East Germany's communist government. So she gets most of her information from Facebook.
This brought her deep into a world of conspiracy theories, though she said she is confident she can "self-evaluate" and "draw her own picture." AfD lawmakers visited Syrian President Bashar al-Assad and didn't show any pictures of war, she said, so she questioned "how big the war over there is."
Rehnert was at the protest on Aug. 27 that stunned the rest of Germany and the world, with far-right protesters overwhelming the police. She was also at a demonstration that the AfD led the following Saturday, which had been called as a silent march.
But it nearly spun out of control after authorities halted the march to stop clashes with a blockade by left-wing protesters a few blocks away. But even more militant groups gathered on the margins of the march, and participants in the AfD march joined them as tensions mounted. Before the authorities forced the group to disperse, dozens of protesters rushed police and attacked journalists, shouting slogans like "Free, Social, and National," the motto of a neo-Nazi party called the Third Way.
Renhert said that she had heard that chant before and saw nothing wrong with each of those words on their own. But when reminded that it was an allusion to the Nazi Party — which was officially called the National Socialist Party — she dismissed the comparison.
"I don't think like that," she said. "It's over the top."
Like a growing number of Germans on the right, she was tired of being reminded of the country's Nazi past. She'd even read a book — widely dismissed by historians — that claimed Germany wasn't really to blame for World War II at all. East Germany, unlike the West, never had a youth movement that demanded answers from their elders about what they did in the war.
As far as Rehnert knew, she said, she didn't know any elders who'd been Nazis when she was growing up, and said, "I don't know any bad people." At the protests, the only person she'd seen doing a Hitler salute "was completely drunk" and "doing it by accident," she said. She'd heard others were "undercover" leftists.
She didn't feel she or the AfD should have to answer for it regardless of what really happened, she said. She didn't know a lot about Nazis, she finally admitted, but she didn't think she had to.
"It's not our problem, because we are not Nazis," she said.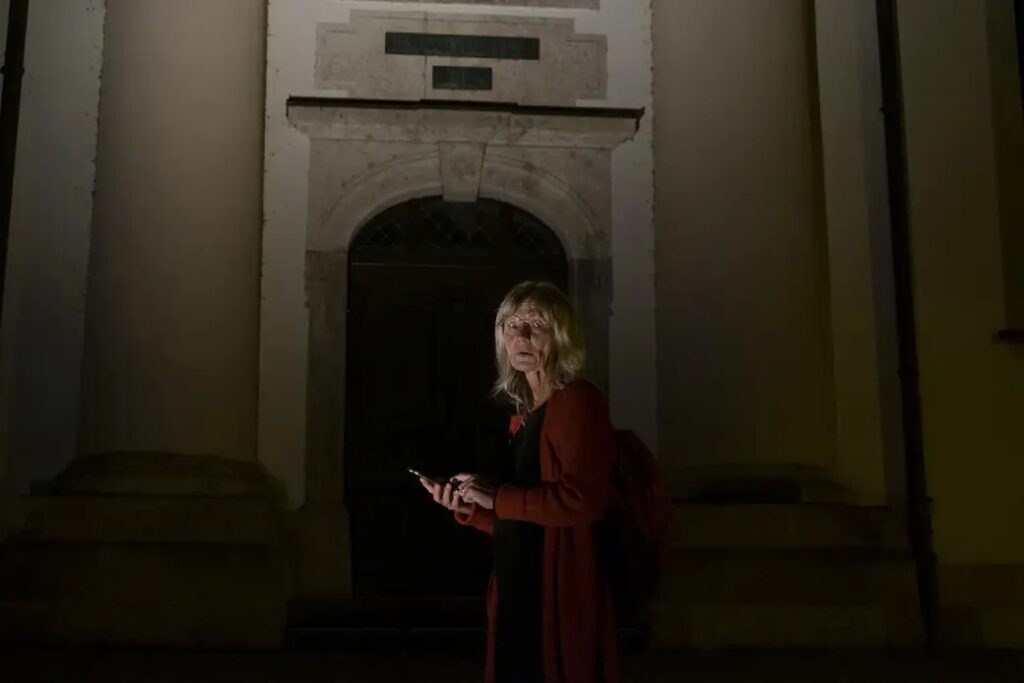 The AfD has pressed its advantage as Merkel and Saxony's leaders have stumbled over each other to respond to the events of the past two weeks.
The head of Saxony's state government, Michael Kretschmer, has denounced extremists at the marches, but he also tried to appease locals who feel their concerns about immigrants and crime are being ignored. He made headlines again this week by suggesting that media reports exaggerated the size of violent factions in Chemnitz's anti-immigrant protests, and disputed reports of widespread violence following right-wing protests.
"One thing is clear," he said in an address to the state parliament. "There was no mob, there was no hunt, and there was no pogrom in Chemnitz."
This directly contradicted comments Merkel made last week: "We have video footage of the fact that there [were people hunted down], there were riots, there was hatred on the streets." The chancellor doubled down on her condemnation of the anti-immigrant protests as she promised to visit Chemnitz soon.
These remarks prompted the video from the AfD's Bundestag leader Weidel, calling Merkel's comments "a fully grown government and media scandal."
The controversy centers on whether the videos posted online from the original round of protests show hetzjagd, a word probably best translated as "hunting people down." There were several other reports of mobs chasing immigrants and leftists in Chemnitz, and reporters wrote about several others that were not captured on video. Chemnitz police did not release arrest numbers from the first day of protests, but referred to the violence as "rioting" and asked people to submit evidence of specific incidents. Eleven people were charged with assault on the second day and 20 people were injured. Authorities in the state capital, Dresden, say they are investigating 120 complaints filed during the protests, though those range from assault to doing the Hitler salute; it also could include charges against left-wing counterprotesters.
The claim that reports of mob violence were fake news got an unexpected boost late Thursday from Hans-Georg Maaßen, the head of the Constitutional Protection Office, a body created by Germany's postwar constitution to police extremist parties.
"After my cautious evaluation, there are good reasons for the fact that it is targeted misinformation in order to possibly distract the public from the murder in Chemnitz," Maaßen told German tabloid Bild, citing the fact that one of the most widely shared videos was posted by an anonymous YouTube user. The incident it showed, however, had separately been reported, and a website run by one of Germany's most important newspapers posted an interview with an Afghan refugee who said he was the victim.
The Interior Ministry quickly announced that Maaßen had received no special information on the incident, and the Saxony state prosecutor said the video was believed to be real and under investigation. Some left-wing politicians called for Maaßen's resignation, his comments taken as the latest signal that he was inappropriately sympathetic to the right. He is also facing allegations that he coached party AfD leaders on how to avoid an official investigation following revelations that he had been secretly communicating with party officials.
Andreas Nick, a CDU member of the Bundestag who leads Germany's delegation to Europe's top human rights body, told BuzzFeed News that it was past time for the Constitutional Protection Office to step in. The delay was especially alarming in Saxony, where a neo-Nazi terrorist group called the National Socialist Underground drew on a support network as it undertook a series of shootings and bombings across Germany from 2000 to 2007.
"Given both the German experience in the 1920s and the [National Socialist Underground] case, turning a blind eye on the far right by law enforcement authorities is unacceptable," he said. "AfD has been largely taken over by right extremists for a long time; this can be neither ignored nor denied."
Even before the events in Chemnitz, the AfD had already accomplished something that Germany hasn't seen since the Nazi Party first began winning elections in the 1920s.
No other nationalist party since World War II had managed to really expand beyond a base of working-class, far-right voters, said Robert Grimm, a political scientist who leads the German office of the polling firm Ipsos. These voters have defected to the AfD in droves, but so have middle-class voters from Merkel's center-right CDU, the center-left Social Democratic Party, and the modern descendent of the former East German communist party, the Left Party.
The AfD's support has only grown, even as it's moved steadily to the right. It was initially known as the "party of professors," led by conservative economists opposed to the euro and Germany financing a bailout for Greece's economic crisis. This faction was pushed out in 2015, and the new leaders rode an anti-immigrant backlash to win seats in the Bundestag in 2017, though the party remained concerned about becoming too close to groups that could have branded it as too extreme.
The events in Chemnitz appear to be pushing the party into a new phase, where it's now seemingly unafraid to stand shoulder to shoulder with groups it once kept at arm's length. The anger about immigration is outweighing warnings about extremism for many Germans, and the AfD has learned to deflect criticism by crying "fake news" or — as its members loudly chant on the streets — "lying press."
The first sign of this new boldness was the AfD demonstration on Sept. 1, which was co-organized with the anti-Muslim protest group Pegida (Patriotic Europeans Against the Islamisation of the Occident). One of its local leaders once called for migrants to be shot, and the AfD's former national leader forbade party members from working with the group last year.
The decision to work openly with Pegida was just "legalizing something that was happening anyway," said the state party's current vice chair, Siegbert Dröse, in an interview this week with BuzzFeed News.
Dröse added that he'd actually opposed the idea of the party marching in Chemnitz because he thought the situation was volatile. But even though the march ended with near-riots and neo-Nazi slogans, the party emerged stronger.
"It didn't hurt us at all — we're growing in popularity," he said.
Dröse said calls for the Constitutional Protection Office to monitor the party only helped it, making its opponents look hysterical.
"So far, all that has done nothing but helped us," Dröse said.
Although he believes the party needs to focus on gaining moderate support and already has "everyone that we want on the right," it is not going to shy away from getting support where it finds it.
"I'm certain, by the way, that we'll succeed next year in Saxony at grabbing the political power," he said. "Obviously we're going to [continue to] look for allies."