But there are fears of a disappointment, just as with California's Proposition 8 in 2008. Lester Feder reports from Dublin on the coming referendum and the ties between Ireland's campaign and those who fought in the U.S.
Posted originally on Buzzfeed News on May 12, 2015, at 9:00 a.m. ET
DUBLIN — In less than two weeks, the Republic of Ireland could become the first country in the world to allow same-sex couples to marry thanks to a popular vote, boosting the marriage-equality movement, which has swept across western Europe.
The latest poll shows 78% of voters in favor of passing the amendment on May 22. That is a staggering number, considering that Irish voters only approved divorce in 1995, and with a margin of less than 1%. It also reflects how diminished the power of the Catholic Church has become over the past 20 years, thanks in large part to devastating sexual abuse scandals that have undermined its moral authority. Catholic bishops have come under fire from some conservative laypeople for not doing enough to stop the referendum, while a few priests have even come out in support of it.
After 20 years of fights in the U.S. and around the world, this is the first time LGBT rights activists have locked horns with conservatives in a battle for the direct support of an entire nation. Several eastern European countries have held referendums to bar same-sex couples from marrying, but Ireland is the first country to ask its electorate to vote on whether to establish marriage equality. A win would counter the criticism from conservatives that marriage equality has been imposed by elites over the will of the people. But a defeat could embolden a growing movement in eastern Europe that wants to enact constitutional bans against marriage rights for same-sex couples.
Paradoxically, the high poll numbers are making Yes campaigners even more nervous. Irish voters have a history of abandoning proposed constitutional changes in the final days of the campaign. And the shadow of California's Proposition 8 — when voters rejected marriage equality in the state in 2008 after a win seemed likely — looms large.
"Look at how Prop 8 happened — Prop 8 was a slam dunk [for LGBT rights supporters] until the result came in and it turned out it wasn't," said Brian Sheehan, co-director of Yes Equality, the campaign group created to get out the Yes vote. The fact that pollsters comprehensively failed to predict the outcome of last week's general election in the United Kingdom hasn't boosted their confidence either.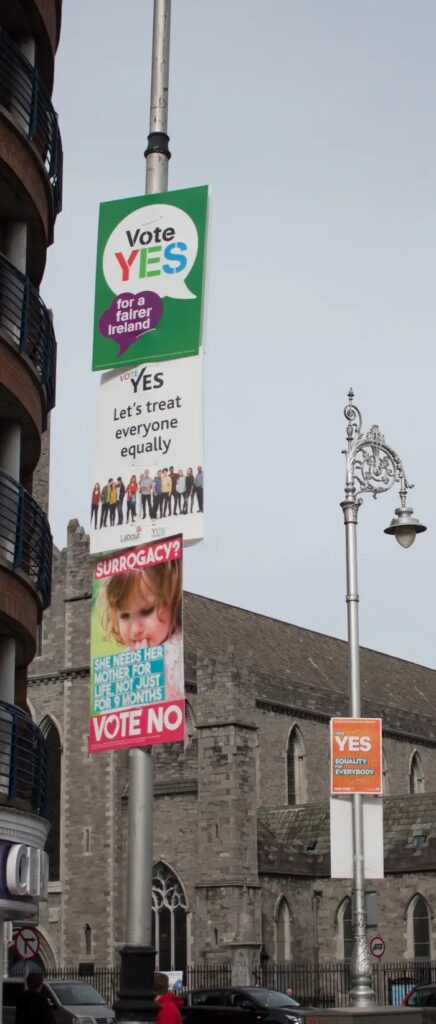 Lampposts across Ireland are plastered with posters representing both sides. The No side says it's printed around 10,000 posters in pink and blue with pictures of babies alongside slogans like "children deserve a mother and father." Brightly colored signs from the Yes campaign urge people to vote Yes for "a more equal Ireland" and "because marriage matters." The version in Gaelic translates to "lend me your hand," a phrase that can both mean asking for help and someone's hand in marriage.
The Yes campaign has had the upper hand in the debate for months. Backed by every one of Ireland's political parties, it has been running a bus tour to generate support for the referendum that was recently joined by Ireland's head of government, Taoiseach Enda Kenny. The Yes campaign has also racked up an impressive list of endorsements from celebrities and athletes, including actors Colin Farrell and Chris O'Dowd, the musician Hozier, and the former captain of the country's rugby team Brian O'Driscoll. Yes Equality is also running a canvassing operation that hopes to knock on all 1.8 million doors in Ireland.
Until recently, the leaders of Ireland's Catholic Church had done little more than pass a formal declaration in December opposing the referendum. The archbishop of Dublin, Diarmuid Martin, took a more forceful tone early last week, which he said was in response to criticism from the conservative Catholic press that he "had 'confused' the press" with his "attitude to the referendum and had given constant solace to the Yes campaign." This was followed by a round of statements condemning the referendum from Ireland's top bishop, Archbishop of Armagh Eamon Martin, and several other senior bishops in their dioceses over the weekend.
This is quite a reversal for an institution that long dominated family policy. Condoms were not widely available without a prescription in Ireland until 1985, so it was common for women to travel across the border to Northern Ireland — part of the U.K. — to purchase contraception. Sodomy wasn't decriminalized until 1993, 26 years after it was legalized in England. Voters rejected a referendum to allow divorce in 1986, and it took almost another 10 years before it was finally approved by the narrowest of margins.
The No campaign has mostly been led by a small Catholic think tank, the Iona Institute, and an ad hoc group of conservative newspaper columnists and individuals with little political experience who've come together under the name Mothers and Fathers Matter. In addition to organizing the poster campaign, Mothers and Fathers Matter is a clearing house for spokespeople against the referendum for the debates that broadcasters are organizing almost daily.
The tactics of the No campaign — which is built around the argument that children will be harmed if same-sex couples are allowed to wed — look disturbingly familiar for American LGBT rights advocates, who are watching the Irish vote carefully. This is exactly the kind of messaging that ate away at support for marriage equality in the Proposition 8 campaign, and they believe it has the fingerprints of the conservative group that pulled off that upset victory, the National Organization for Marriage (NOM).
"When the other side filed [to name their group] as Mothers and Fathers Matter, that was an instant signal to me that their messaging is 100% from the playbook of NOM and the U.S.," said Thalia Zepatos, director of research and messaging for Freedom to Marry, an organization established in 2003 to counter the wave of ballot measures in U.S. states to ban marriage equality. Like NOM, she said, Mothers and Fathers Matter was using a "drumbeat of fear-based messaging [about children by the No campaign that] brings the numbers lower and lower and lower."
The Irish campaign "reminds me more of Prop 8 than any other campaign I've seen since then," said Zepatos.
The No side denies that it is borrowing tactics from California, saying it's learned more from campaigns in eastern European countries like Slovenia in 2012 or Croatia in 2013, where referendums were passed curtailing partnership rights for same-sex couples.
"We wouldn't be taking too many more lessons from Prop 8 than from elsewhere," said David Quinn, head of the Iona Institute and adviser to Mothers and Fathers Matter. Quinn, who also writes a regular column in the Irish Independent newspaper, is widely regarded as the savviest campaigner on the No side.
"Obviously the only way two men or two women can found a family is by violating a child's right to have a mother and a father."
But the No camp has gotten some input from veterans of the California campaign and other marriage fights abroad. Frank Schubert, the conservative political consultant credited with the Proposition 8 victory, told BuzzFeed News before an NOM rally in Washington earlier this month that he has sent private polling, focus-group work, and other messaging guidance to activists on the No side. NOM President Brian Brown also said he had "talked a lot" to Quinn periodically over the past few years, though they hadn't communicated in over a year.
They've also sought advice from opponents of same-sex marriage in the U.K., Keith Mills, a spokesperson for Mothers and Fathers Matter, told BuzzFeed News last Tuesday. The next day, he said, the group was due to meet with a representative from La Manif Pour Tous, an organization formed in opposition to France's 2013 marriage equality law that has established itself as an engine for movements opposed to marriage equality across Europe.
"We would take most succor from what happened in Slovenia," Quinn said, referring to the 2012 referendum that reversed a law passed by parliament extending legal protections to same-sex couples. Opponents have also consulted the leaders of the 2013 campaign that blocked marriage equality in Croatia.
They hear the same advice from campaigners in every country, Quinn said. "The message that comes back all the time, loud and clear … [is] keep talking about the children." Marriage is inherently bound up with the right to found a family, Quinn argued: "Obviously the only way two men or two women can found a family is by violating a child's right to have a mother and a father."
Yes campaigners call this argument a "red herring." The Oireachtas, the Irish parliament. passed a law last month to expand adoption rights to same-sex couples; a Yes vote in this referendum would do nothing to change that, and they say it would leave existing law on surrogacy unchanged. The country's major children's charities have also endorsed a Yes vote.
Mills and Quinn both said the No campaign had not received any funding from international donors, however. Quinn said the Iona Institute's only substantial international funding has been €24,000 over the past few years from an Italian foundation headed by a former member of the European Parliament, Luca Volonté, who sits on the board of the conservative online campaign platform CitizenGo along with NOM's Brian Brown. But none of that money has gone to the referendum campaign, Quinn said.
By contrast, the No campaign has been making an issue out of the millions of dollars that have been given to Ireland's leading LGBT rights organization by the New York-based Atlantic Philanthropies. Atlantic was created by Irish-American billionaire Chuck Feeney in 1982 and has contributed to a range of sectors in Ireland and to LGBT rights causes around the globe. Though Yes Equality says all its funding has been raised from Irish citizens, the No side has been arguing that the vote will be a test of whether "American money [can] buy an Irish referendum."
Marriage equality campaigners did consult the U.S.'s Freedom to Marry as they were thinking about formulating their campaign, however. Noel Whelan, strategic adviser to Yes Equality, said American advice was especially helpful in learning how to engage people outside the gay and lesbian community about the importance of marriage to same-sex couples.
That hasn't "directly translated" into an Irish context, Sheehan said, in part because Ireland "never had a culture war" about LGBT rights the way the U.S. did. Most advances for LGBT rights — from decriminalizing sodomy in 1993 to establishing civil partnerships in 2010 — were made in single votes in Dublin and not in a series of state-by-state battles or judicial wins. And this unfolded as economic change transformed Ireland from a society dominated by the church to one that shifted more toward Europe and the U.S. during an economic revolution in the late 1990s.
"Ireland has been on such an extraordinary journey," Sheehan said. "We want this campaign to be different than any other campaign."
"I think this is a campaign that we can win, but this is a campaign that we can lose."
Last week, Ireland's first openly gay elected official, Sen. David Norris, appeared on one of the constant stream of broadcast debates, which are the primary battleground during Irish campaigns since direct advertising is banned. Norris, a well-known politician who ran for president in 2011, was a leader of the push to decriminalize sodomy in the 1980s.
"This is all about equality — equality and nothing else," he began, recounting how voting to approve marriage equality would finish the work begun by repealing the sodomy law.
"We cannot win this on our own," he said. "We are relying on the goodwill, the decency, and the sense of compassion from our heterosexual friends, families, and neighbors ... I want my participation in the Irish family to be recognized once and for all in the constitution."
Tom Finnegan, an anti-abortion activist representing Mothers and Fathers Matter, countered that existing civil partnerships guaranteed equal rights to same-sex couples. "If we pass this referendum, it will be constitutionally impossible for any Oireachtas ever again to give preference in law for [a child to have] a mother and a father."
Spokespeople for the Yes campaign spent a great deal of time rebutting these points in the first major round of debates held last week. From their point of view, every second they spend addressing these questions could potentially cost them votes. They believe the No campaign has an easier job than they do — voters don't have to be against same-sex marriage to vote No; all they need to do is feel unsure to choose to stick with the status quo.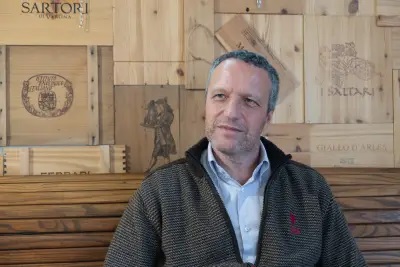 "All [the No campaigners] have to do is confuse," Tiernan Brady, policy director for the Gay and Lesbian Equality Network, told BuzzFeed News at the Yes Equality headquarters last week. The consensus in the Yes campaign office was that their side had been drawn into a shouting match with their opponents in an important television debate the night before.