"I was the father of the sexual revolution, and now I'm becoming the father of the sexual counterrevolution," Vladimir Linderman told BuzzFeed News in the Latvian capital, Riga.
Posted  originally on Buzzfeed News on November 27, 2014, at 7:30 p.m. ET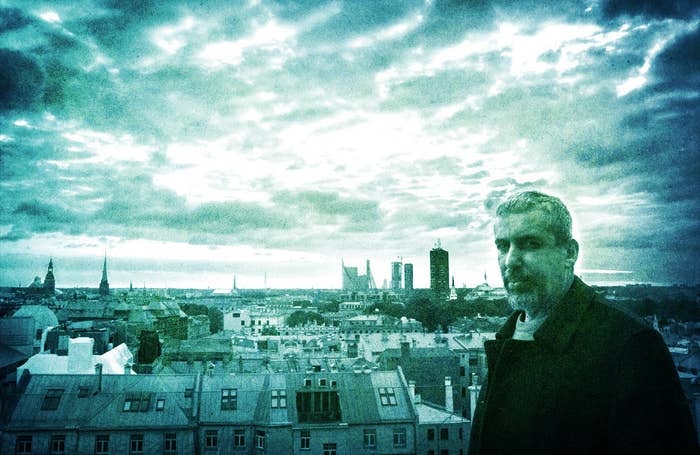 RIGA, Latvia — In 1990, a new Latvian publication called MORE, which billed itself as "an independent erotic newspaper," published its first issue with a strong endorsement of LGBT rights on its front page.
Latvia was in the process of breaking free from the Soviet Union, and the article made the case for repealing the Baltic republic's Soviet-era law criminalizing homosexuality, known as Article 124, as part of "Latvia's path to Europe."
"There can be no free country that criminalizes sexual minorities," an activist who said he was from a group called the Latvian Association for Sexual Equality was approvingly quoted as saying. "This discriminatory article … only discredits Latvia in the eyes of the civilized world." The editorial, headlined "For Sexual Equality," ended with details of the organization's bank account should readers want to donate to its cause.
MORE became a sensation across the former Soviet Union. Never before in the USSR had there been a publication that dealt openly with sex. Its creator was Vladimir Linderman, who worked as a journalist and published a poetry magazine before the paper's launch. He was suddenly making serious money, but the cash was also attracting the attention of mafia bosses who demanded joint ownership of the enterprise. Linderman sold off the paper in the mid-'90s and went into politics. After Vladimir Putin came to power in Russia, Linderman moved to Moscow to become part of the leadership of one of the most stridently anti-Putin political movements, and spent six years dodging Russian police until he was ultimately deported back to Latvia.
That's why many Latvians found it ironic when Linderman, who is now 56, launched a campaign last December to collect signatures in support of a referendum on a Latvian version of Russia's "gay propaganda" ban. Kremlin allies throughout eastern Europe have pushed anti-LGBT legislation in the past couple years as part of their ideological battle with the West.
It was a shock to see Linderman acting as if he were the Kremlin's man in Riga. But Latvia is the logical next battleground in Russia's duel with the European Union. The country has the largest Russian-speaking population of any EU member state that was once part of the Communist world, and they get much of their news from television stations beamed across the country's long border with Russia.
The timing of Linderman's new campaign was also telling — he unveiled the effort just after an organization that runs EuroPride, a Europe-wide LGBT rights festival, announced it would hold its 2015 event in Latvia, when the Baltic state would assume the EU's rotating presidency. The decision to hold EuroPride as close to Moscow as possible was given a symbolic boost on Nov. 7, when Latvian Foreign Minister Edgars Rinkēvičs came out on Twitter, becoming the first openly gay official from a former Soviet country.
The story of Linderman's transformation from anti-Kremlin sexual radical to moralist crusader who many Latvians suspect of being a Kremlin agent isn't really about how Linderman changed his mind about homosexuality. During a two-and-a-half-hour interview with BuzzFeed News at a hotel in the Latvian capital, he suggested he actually didn't really have any strong feelings about homosexuality at all. Rather, his story is about how many people living in the former Soviet Union went from being desperate to escape Moscow's rule to yearning for its patronage. It is also a tale of how Putin used that desire to co-opt some of his most committed enemies and convince many living in the former Communist world that what once seemed so exciting about the West is now what is most terrifying about it.
"I dislike any ideology where I see signs of totalitarianism," Linderman said between cigarettes. MORE was his answer to Soviet repression, and his "gay propaganda" proposal is a response to what he sees as a "new totalitarianism" being pushed by liberal forces in the West.
"Sometimes, my biography confuses even me," Linderman said. "I was the father of the sexual revolution, and now I'm becoming the father of the sexual counterrevolution."
MORE began publishing in 1990, about a year before Latvia's government formally declared its independence from the Soviet Union. Parties favoring independence had already taken control of Latvia's government, and they fended off an attempted coup by forces loyal to Moscow before the USSR recognized Latvia's independence in September 1991, three months before the USSR itself dissolved.
MORE had a fair amount of gay coverage in its first few issues, but it wasn't a gay newspaper by any stretch. It was omnivorous in its coverage but exuberantly hetero in its aesthetic: A pair of women's legs sticking up into the air substituted for part of a letter in the paper's logo. A close-up photo of a vagina decorated the numeral on the top of page 2 just because. Half of page 3 was devoted to a picture of a naked woman splayed on her knees plunging her face into a man's crotch.
The newspaper's mix of porn and satire opened up the conversation about sex in the Russian-speaking world in much the same way Playboy did in the U.S. in the 1950s, but its significance was arguably more profound. The phrase "there's no sex in the Soviet Union" had been a running joke on both sides of the Iron Curtain for several years before it fell, and there was some truth to it, at least in publishing. MORE was a joyful middle-finger to all the social strictures of the Communist years, liberating in the way it might have been to wave a giant dildo in the face of Lenin. (The editors came pretty close to doing exactly that in the very first issue, placing an image of a veiny rubber phallus alongside an excerpt from a Lenin biography with a caption that began, "Have they understood that MARXISM is more real and more serious than they thought, that you can't rag on it?")
But as much fun as Linderman seemed to be having, he quickly soured on Latvia's rush toward Europe. Just months after gaining independence, Latvia's new government stripped citizenship from hundreds of thousands of Russian people whose families had moved to Latvia after it was absorbed by Stalin during World War II — including Linderman. The move left about one-third of Latvia's population of 2.6 million without citizenship. Russians like Linderman saw this as discrimination, pure and simple.
"For Latvians, it is very important that they are the owners of this territory — the masters — and the others are guests," Linderman said. "The majority of the Russian-speaking population here, we believe we are owners as well. We feel we have the same rights as Latvians."
Disenfranchisement wasn't Linderman's only disappointment with what Latvia was becoming. "Maybe I had some illusions about Western life for some years," Linderman said, but when capitalism arrived he found it too crass and felt it was up to him to preserve "artistic life" in Latvia.
"When it all started here, the process of dividing all the property and money gathered here during Soviet times … it was very unpleasant and non-artistic," Linderman said. "I believed that the new capitalistic system would be more creative, [but] over the whole history of Latvian independence for 20 years, I have seen no sign of creative activity, not in government, nor in social life, nor in arts and sciences. Many people say, 'If you, Linderman, leave Latvia, then life here is dead completely.'"
As Latvia laid the groundwork to join the European Union and NATO in the '90s, Linderman fought to drag it back toward Russia. He became a leader in the Latvian branch of a new political movement that had started in Moscow called the National Bolshevik Party. The name is confusing, because the Nazbols — as movement members were nicknamed — weren't really pining for communism, but rather a Russian-led empire that harkened back to both the USSR and the "Russian World" dreamt of under the tsars. They affected a Nazi-inspired fascist drag, directly modeling the movement's flag on the banner of Hitler's Third Reich, but with a hammer and sickle at its center instead of a swastika. Its leader, a writer named Eduard Limonov, affected a kind of casual punk militarism, a posture most infamously captured in a BBC documentary that showed him firing a few rounds from a machine gun into the Bosnian capital of Sarajevo during a 1992 visit to see the Russian-backed Serbian warlord Radovan Karadžić.
Joining the Nazbols "was my reaction to the Russophobia and nationalism here in Latvia," Linderman said.
Linderman also related to the Nazbols' aesthetic. Limonov spoke about the movement as an extension of his literary life — a sort of conceptual art project — at least at first. Like Linderman, Limonov first made his name in large part by using sex to shock Soviet sensibilities, but went even further, including writing graphically about having sex with men in the autobiographical novel that established his reputation, 1979's It's Me, Eddie. In one famous scene the eponymous narrator is pulled out of the drunken despair that had seized him while living in exile in a New York flophouse when he has sex with a stranger in the middle of the night.
"I must be the only Russian poet who had ever been smart enough to fuck a black man in a New York vacant lot," the eponymous narrator of It's Me, Eddie muses after the encounter. "For the first time in several months I was in a situation that I liked, utterly and completely... At that moment I was really a woman, capricious, demanding, and probably seductive, because I remember myself playfully wiggling my butt as I leaned on my hands in the sand."
Linderman was a leader of the Latvian branch of the Nazbol party in the late '90s and wrote for Limonov's newspaper, which was called Limonka (twisting Limonov's name into a Russian term for "hand grenade"). The paper was banned in Latvia and Linderman wrote under the name Abel, borrowing a name used by a famous Soviet spy who was captured after spending years working throughout the U.S. and Europe.
The Latvian Nazbols became more militant as the decade wore on, culminating in November 2000, when three members barricaded themselves inside the bell tower of the Church of St. Peter, which looms over Riga's historic center. One of the triggers for the protest was the trial of a former Latvian KGB officer named Mikhail Fartbukh — accused of sending 31 Latvian families to Siberia a year after the Soviet Union took control of the country in 1940 — who they cast as a martyr for Latvia's Russians.
Latvian authorities moved aggressively to shut the Nazbols down. The three who seized the church were charged with terrorism and sentenced to 15 years in jail. They came after Linderman a few years later, charging him with possessing weapons and plotting to overthrow the Latvian government. But Linderman was in Russia before the police came for him, heading to Moscow to join the Nazbol central committee. By the time he arrived, the main threat to the movement was another former KGB agent: Vladimir Putin.
When Putin became president of Russia on the last day of 1999, he represented no particular ideology, but was brought in as a firm hand that would restore order following the chaos seen under the increasingly ailing Boris Yeltsin. He immediately set about consolidating power, turning on the oligarchs who brought him to power, arresting political opponents, and crushing separatist movements with a famous promise to "waste the terrorists in their shithouses."
Gay people weren't a target in Putin's early years. That came only in 2012, after mass opposition protests made Putin worry he could actually lose power. Recasting himself as a champion of Russian values, Putin could discredit the very idea of Western values as a pretense designed to promote the rights of "pederasts" and "perverts."
But the Nazbols were on Putin's radar from day one. The National Bolshevik Party wasn't formally ruled to be an illegal extremist group until 2007, but Limonov was arrested in 2001 on charges that he was plotting to invade Kazakhstan based on an article he had written, and served two years in a labor camp. Linderman, meanwhile, landed in Moscow's Lefortovo Prison — the infamous mothership of KGB interrogation under Soviet rule — a few months after he arrived in Moscow in 2003, but then he got lucky. Russian security police arrested him on the charges he was facing in Latvia, but a good lawyer and "friends among the politicians" prevented him from being extradited and he was released after a few weeks, he said.
Linderman did not say what he was doing during the six years he spent in Moscow, but much of that time was devoted to fighting Latvia's attempts to extradite him. In 2008 he was finally sent back to Latvia and spent four months in jail until a court acquitted him of the charges. He was released and set to rebuilding his life in a country where he still could not vote. Latvia was now formally part of the European Union, which it had joined in 2004 while Linderman was out of the country.
Linderman quickly re-established himself as one of the most controversial non-citizen activists in Latvia. He founded a political party dedicated to dismantling a pillar of the country's post-Soviet identity — the law establishing Latvian as the country's only official language. In 2011, he helped gather enough signatures to force a referendum on making Russian an official language as well. When the referendum was held in 2012, voters rejected it 75% to 25%, a margin so large that it would have still lost substantially even if all of the roughly 280,000 remaining non-citizens had been allowed to cast a ballot in favor of the referendum.
When Linderman started gathering signatures for a referendum to ban gay propaganda in December of 2013, his critics saw it as an indirect attack on Latvia's European identity after his direct attack had failed. LGBT rights activists speculated that the whole effort was being funded directly by the Kremlin.
"I'm not a big fan of conspiracy theories, but it seems quite clear that this money might come from our very tiny and completely non-ambitious neighboring country that we share a border with," said Kaspars Zalitis of the Latvian LGBT group Mozaika. "This law is a direct copy of the Russian law."
Linderman denies he gets any support from Moscow and said the campaign for the referendum has raised and spent less than €7,000. In fact, he said he wished his critics' allegations were true. "I would really welcome the attempt from the Russian part to intervene somehow in local events," Linderman said.
If Linderman has any quarrel with Putin now, it is that the Russian president isn't as fervently committed to expanding Russian influence as Linderman would like.
"Nowadays everything has changed," said Linderman, borrowing a formulation that Limonov has used now that he has found himself in uncomfortable agreement with Putin on matters like Russia's fueling unrest in Ukraine: "It is not me who moved towards the Kremlin. The Kremlin moved towards me."
Linderman maintains that his anti-LGBT crusade is primarily motivated by a genuine concern about what he calls a "gender revolution taking place in the Western world." But he allows that he launched it with another goal as well: to convince ethnic Latvians that they should unite with Russians to fight against so-called foreign values.
"It was very important for us to convey the idea to Latvian society ... in this particular field it would be impossible for them to defend their traditional values without the help of Russian society," Linderman said.
Some of his supporters also hope the referendum could force Latvia to rethink its membership in the European Union. "This is, of course, a confrontation not [just] with the EU itself, but first and foremost with the Latvian government which doesn't really think about the marching orders they get from Brussels," said Ruslan Pankratov, a member of Latvia's parliament and Riga city councilman. Pankratov is a member of the Harmony Party, the center-left party that is led by the country's highest-ranking ethnic Russian politician, Riga Mayor Nils Ušakovs. (Ušakovs himself has kept his distance from the referendum, dismissing it as "an attempt to draw attention.") If Linderman were to succeed in getting his proposal for the "gay propaganda" ban on the ballot, Pankratov said, "This referendum can be a turning point for Linderman, uniting Russians and Latvians."
For the moment, however, the perception that Linderman is using this referendum primarily to win sympathy for Russians seems to be weighing down his chances of it ever coming to a vote. Anti-Russian sentiment has hardened following Russia's invasion of Ukrainian territory in early 2014, as some fear that Russia might try to foment separatist movements among Latvia's Russian population. It hasn't helped that Linderman is suspected of having links to Russian separatist movements in Ukraine. Earlier this month, police raided his apartment, alleging that he was recruiting Latvian residents to go and fight with Russian-backed forces in Ukraine. The one party that had endorsed the gay propaganda ban — the right-wing Russian Union — was voted out of parliament in elections held on Oct. 4.
As of October, Linderman said the campaign had collected only about one-third of the signatures needed before year's end to qualify for the ballot. "I can't boast that we've advanced too far," Linderman said.
Even some social conservatives gathering signatures for the referendum say he has done more harm than good.
If Linderman was so enthusiastic about this kind of referendum, he should have "asked us or someone with a Latvian family name" to sponsor it, said Yelena Kornatova, of the organization Dzimta, which describes itself as a "parental social movement." "Theoretically speaking this could be an issue on which Christian and Democrats, Latvians and Russian-speakers could be united on," but Linderman destroyed hope of that alliance by putting his name on the referendum, she said. "We still blame him for that."
Latvia's newly out foreign minister, Edgars Rinkēvičs, wouldn't comment directly on Linderman's initiative. But in an interview with BuzzFeed News, Rinkēvičs said there is a "Russian propaganda and information war which is actually launched by Russia … [trying] to play out that there is a clash of values and civilizations," and LGBT rights is just one facet of it. Even if Linderman's proposal fails — which it seems likely to do — he doesn't see this coming to an end anytime soon.
"You can call it an ideological battle for the 21st century," Rinkēvičs said.
Susie Armitage contributed to the reporting of this article.