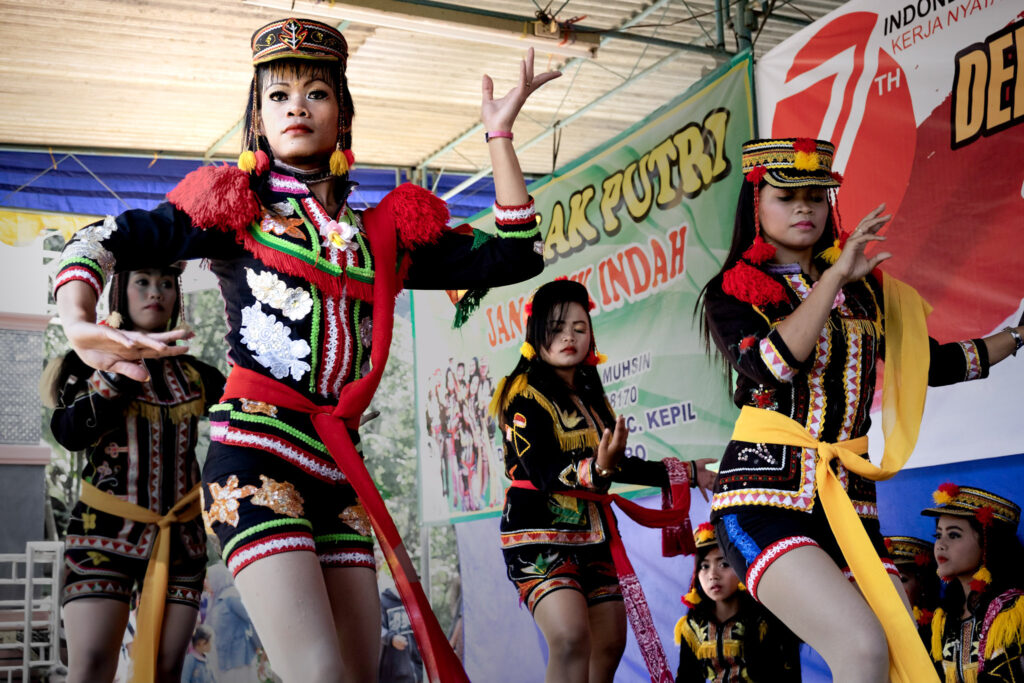 Andi was a dancer from an Indonesian village who believed his gift came from the spirit of a princess living inside him — then a national panic over homosexuality turned his world upside down. J. Lester Feder reports from Central Java province.
Posted originally on Buzzfeed News on October 8, 2016, at 10:26 a.m. ET
TEGESWETAN, Indonesia — Local police dispatched officers as soon as they got a report that two men planned to marry each other in Tegeswetan, a mountain village of around 2,000 people in Indonesia's Central Java province.
Officer Singgih quietly approached the thatch-roofed house where 27-year-old Andi Budi Sutrisno lived with his two parents. A crowd of several dozen spilled into the yard and onto the village's main street that Saturday morning in mid-March. Dozens of guests had journeyed to the event in minibuses and SUVs, and a feast awaited them made with scores of coconuts, a broad array of spices, and 100 pounds of rice.
Andi emerged from his bedroom wearing a gown of golden lace and a crown pinning his hair into an imposing bun. His boyfriend, Didik Suseno, wore a dark suit on his skinny frame and a garland of flowers around his neck. Didik's parents cried as the couple performed sungkeman, a ceremony asking the parents' permission to marry.
Officer Singgih reported back to his superiors as soon as he saw Andi and Didik pose for a photograph. Officers arrived to take Andi and Didik away while they were shaking hands with their guests, and escorted them to a summit with village leaders at the house of a local official nearby.
This was exactly what Andi was afraid of from the moment Didik suggested they marry. The idea was to please Didik's parents, who lived in a far-off village and had only met Andi dressed as a woman. They expected the couple to marry after they'd been dating for two years, and had even managed to get a wedding license from a government office in their village.
Andi told Didik he thought it was a bad idea from the moment he first proposed. "What a weird proposal you made," he recalled saying. "We've never been able to get married here — never." To head off legal problems, Andi asked village officials to see that the wedding application was formally nullified before the party took place. The event was just meant to look like a wedding celebration to satisfy Didik's family.
But none of these details mattered to police. They saw the couple as part of shadowy movement rapidly infecting the country and a chance to proclaim which side they were on.
"The police are concerned that an LGBT problem occurred in this village … this case, in fact, confirms our prediction that LGBT is spreading," Suharwoko, deputy commander of the local police subdistrict, told BuzzFeed News. (He, like many Indonesians, uses only one name.) Tegeswetan, like Indonesia as a whole, is overwhelmingly Muslim and they were worried, the local police's public relations director said, that a same-sex wedding would create "social unrest."
"For a man to marry a man … is haram. Allah created only male and female."
Since that March day, this tiny village has been sucked into a moral panic over homosexuality that swept Indonesia in the first half of this year, with gangs on the streets attacking LGBT organizations and the highest government keeping up the drumbeat. Homosexuality is not criminalized in the country and the term "LGBT" was barely known outside activist circles, but in January lawmakers began describing the movement as an existential threat to the country. It was a new front in a long-running culture war over the place of Islam in a country that is 87% Muslim but officially enshrines freedom of religion.
The police eventually let Andi and Didik go, but the police quickly published an account of the event on the department's Facebook page under the headline "Police Thwart Same-Sex Marriage," with pictures of Andi in his regalia. Most Indonesians would know two different words for a man who wears women's clothes: the polite equivalent of "transgender," waria, and the rude equivalent of "faggot," banci. The police press release quoted a Muslim cleric denouncing Andi as both.
"For a man to marry a man … is haram," the cleric lectured the couple according to the police Facebook post. "Allah created only male and female … not waria or banci."
The story quickly traveled across Indonesia, a nation of almost 260 million people spread over around 6,000 inhabited islands in a chain that stretches the distance between Seattle and Miami. The police's Facebook post was shared thousands of times and the story was picked up by several news outlets. Andi had lived his whole life in a remote village, but now he was cast as a kind of foreign invader who threatened the fabric of society.
"This phenomenon is a sign that LGBT movement and its propaganda in Indonesia has been very successful," said Fahira Idris, a senator representing Jakarta in the National Assembly who built her national profile as a social media crusader for conservative causes. During a national news program, she said, "They are targeting Muslim countries such as Indonesia … because they think their propaganda has been successful. … If the government does not respond quickly, it will extend even further."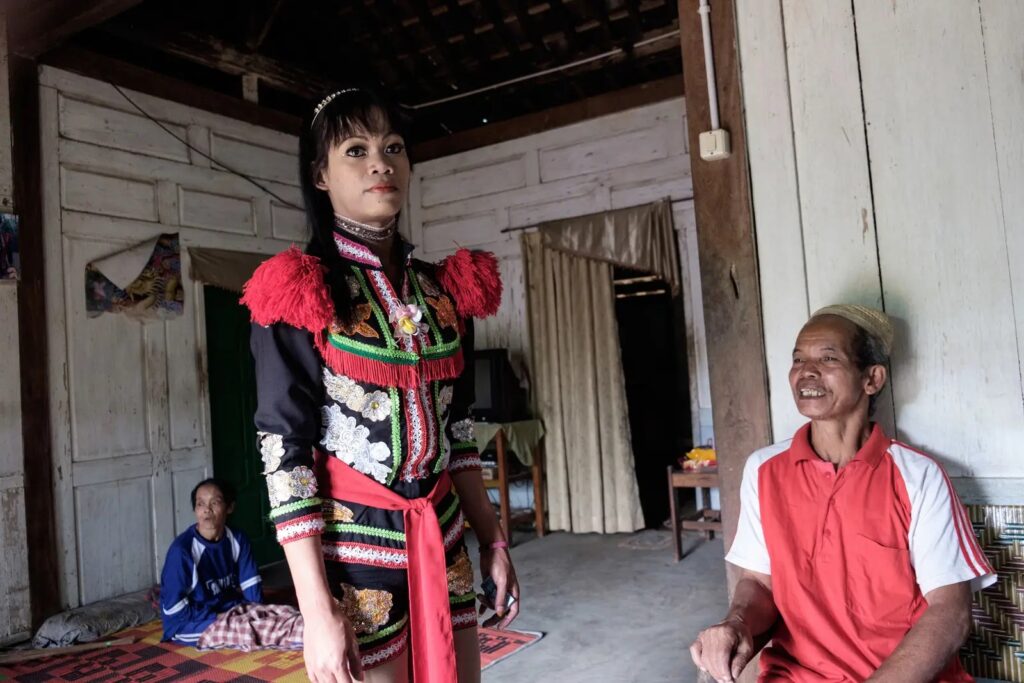 Andi with his parents at their home in Tegeswetan.
He is one of the region's best dancers of ndolalak, a local style that is usually performed only by women. He wears the women's dance costume with perfect poise, and he is a master of ndolalak's precise hand inflections, tight twirls, and elegant ripples of the sash. As he walked through a recent festival in the village, children delightedly cried "Andini!" — the female form of his name.
He'd shown his aptitude for dance at an early age, and the story of how he got his feminine grace is well-known in the village: When he was 11, an elder took him to a shaman who poured him a glass of water. After he drank it, the shaman told Andi it contained the spirit of a princess said to be a guardian of the forest. She was called Putri Babi — the Pig Princess — and she would make him more beautiful and a better dancer.
The change was immediate, said Edi Purnomo, a village official who ran the town's ndolalak troop. Edi had also been one of Andi's first religious instructors, teaching him to read the Qur'an. But he was thrilled with the dancer Andi became after the visit to the shaman.
"After drinking the water, he began dancing attractively like a woman, so my ndolalak group got more gigs," Edi said, noting that Andi supports his two disabled parents with the money he makes from performing. Most of the neighbors respectfully address Andi as "sister" even when he was out of costume, and, Edi said, "I support what he is now because his soul is full of artistry."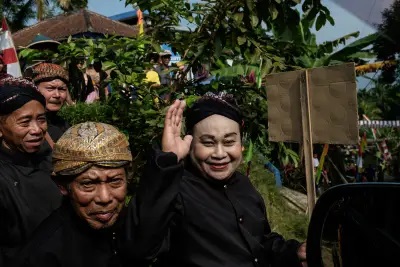 Edi Purnomo, right, at a festival in Tegeswetan, Aug. 27, 2016.
Though Indonesia is home to more Muslims than any other nation on earth, the faith has historically lived comfortably side by side with belief in ghosts and spirits with roots in Buddhism, Hinduism, and other traditions that dominated the region before Islam arrived in the 12th century. People from the area told BuzzFeed News they'd heard of others occasionally being possessed by a spirit of the opposite sex, but no one knew of someone who appeared to have changed as much as Andi.
And Andi fits in a long tradition of cross-dressing in theater on Java; it used to be that men mostly played women's parts and sometimes took on feminine roles offstage. Transgender people are well-known throughout Indonesia by the term waria — a term that combines fragments of the word for woman (wanita) and man (pria). Though they are often driven from their families and only able to support themselves by sex work, they have not historically been harassed by their neighbors or especially targeted by morality campaigners or police.
Andi didn't consider himself a waria, though. The ones he'd seen were sex workers in the nearby city, he said, "and I am not associated with that."
"I dress up like this simply for work, to earn money to support my family," he said. Until March, he had "no regrets" about growing out his hair and wearing makeup, which he was drawn to the moment he felt the princess move into his body. He called the princess a blessing, "a tool to earn money."
He said he was "madly in love" with his boyfriend and went along with the wedding ruse so they could be together. But Andi doesn't call himself gay — it's not really a word he's familiar with.
The events that upended Andi's life began back in January in Indonesia's capital, Jakarta, when the minister of higher education declared that LGBT runs counter to Indonesian "values and morals." He was responding to posters hung up at the University of Indonesia for an "LGBT Peer Support Network" offering counseling services to "friends who need a place to share their stories."
It snowballed from there. Over the next month, a former cabinet minister called for gay people to be put to death, the vice president demanded the United Nations cut support for LGBT rights programs in the country, and the defense minister called the LGBT movement a front in a "proxy war" to occupy "the minds of the nation" that was more dangerous than "nuclear war."
A wave of attacks on LGBT people by vigilante groups followed. In Bandung, West Java, a group called the Islamic Defenders Front raided the rooms of suspected lesbians and hung banners around the city saying "Homos and Lesbis forbidden to enter." In Yogyakarta, the nearest metropolis to Andi's village, a group called the Young Generation Muslim Brotherhood Forum threatened an LGBT solidarity march — it was ultimately violently shut down by police. Another Yogyakarta group forced the temporary shutdown of an eight-year-old Islamic school for waria, which had made international headlines as the world's only madrasa for transgender women.
Since he got caught up in this firestorm, village leaders have been looking for a Muslim cleric to perform a ruqyah — a kind of Islamic exorcism — to get rid of the princess spirit. And Andi wants to see her gone.
"I'd love to have the spirit out — it's led me astray because it's black magic," he said.
But he is still confused about how he became part of a national controversy. He tripped over the foreign acronym as he said, "I don't even know what LBGT is or what the connection is [with me]."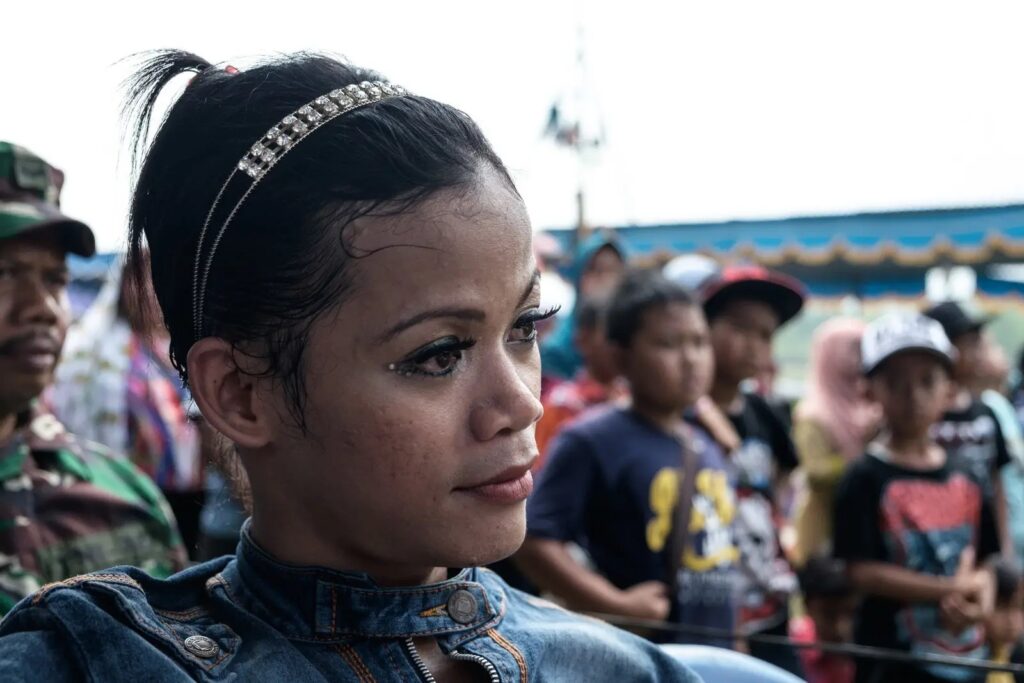 Andi after a dance performance in August.
Homosexuality had become a major issue in national politics so suddenly that it was weeks before seasoned LGBT activists realized a fundamental shift was underway.
LGBT activists had occasionally clashed with Islamist vigilantes over isolated events — like a queer film festival or activist conference — but the confrontations were soon forgotten, and they could continue their work. And arrest or mob violence have followed marriage attempts by same-sex couples going back several years. But this time the attacks were sustained, and policymakers seemed determined to make the crackdown permanent.
The biggest potential threat to LGBT rights made headlines in August. The Constitutional Court began seriously considering a petition that would criminalize homosexuality for the first time and punish the crime with five years in prison.
The suit made clear that this unprecedented fight over homosexuality was just the latest round of a very old argument over the place of religion in Indonesia. The petition was backed by a three-year-old coalition called the Family Love Alliance (abbreviated AILA in Indonesian), which included much older organizations that had long campaigned to bring a stricter interpretation of Islam to Indonesia.
In court, AILA's experts argued that criminalizing homosexuality was part of the unfinished business of breaking from the country's colonial past. The criminal code was written by the Dutch colonial government that ruled Indonesia until World War II, they said, and Indonesia could become like a Western nation if it was not updated to criminalize sexual conduct counter to local religious beliefs. Their request to criminalize homosexuality got most of the attention, but that was actually only one part of the petition — they also wanted to criminalize all heterosexual intercourse outside marriage as well.
"This criminal code was adopted from the Dutch with its own particularistic values ... We were not only colonized in terms of territory but also morally," Atip Latipulhayat, a law professor at the Padjadjaran University in Bandung, argued during an August 23 hearing.
Several of the judges seemed persuaded by this argument, including Patrialis Akbar, who said from the bench, "This constitution is liberal, yes, because it's coming from imperialist government ... Should all laws that are not in accordance with morals and religion be synchronized with local values?"
"We are considered as part of the Eastern world, a civilized nation, a religious nation, a nation with noble character ... It has norms. It is not like the West, America, which can be as free as they want."
There were armed militias that wanted to establish an Islamic state when Indonesia won independence in 1945, but the military regime that consolidated power by 1965 drove them underground. They sprung back to life after the dictatorship of President Suharto fell in 1998. Islamist organizations also grew on university campuses. Generations of students returned from years abroad — especially in Egypt — inspired by the Muslim Brotherhood and other international Islamist movements. Recently, conservative voices have grown louder with the explosion of social media, which has also opened channels for appeals from hardline Islamic groups overseas.
The internet is also where conservatives see the greatest threat. Lawmakers first responded to the LGBT crisis by calling for a ban on LGBT "propaganda" online. The government, which has been locked in a much broader regulatory battle against foreign tech companies, moved in September to block Grindr and is reviewing more than 80 LGBT apps and websites.
Internet use has more than tripled in the country since 2010 — around 30% of the country is now online — and it is one of the world's biggest markets for social media. This has created a space where LGBT Indonesians can be more vocal than they could ever be in the real world, and where they can find support as part of a global community. But this has also seemed to validate the argument that LGBT activists are agents of a foreign movement penetrating the country through computers and smartphones.
"All news and information is dominated by Westerners, by outsiders — they intentionally aim to influence our mind, our way of thinking," warned Said Aqil Siradj, chairman of Indonesia's largest Muslim organization, the 91-million-member Nahdlatul Ulama (NU), said during an August speech.
The NU called for the criminalization of homosexuality and LGBT "propaganda" in February, which stunned progressives. The group had been a key voice for pluralism during the early years of democracy, and its endorsement of the anti-LGBT campaign was the clearest sign that the politics of the issue had fundamentally shifted.
Private homosexual relationships or waria were not something that needed to be policed before Western backing turned LGBT into a "massive movement … asking to legalize it," Siradj told BuzzFeed News following the speech. "We are considered as part of the Eastern world, a civilized nation, a religious nation, a nation with noble character ... It has norms. It is not like the West, America, which can be as free as they want."
The NU is also working to counter the spread of al-Qaeda and ISIS-style terror groups, which have carried out several small attacks in Indonesia, and Siradj said that homosexuality was just as dangerous.
Homosexuality "destroys the nation … just like terrorism," because if there is sex "between man and men, then [humanity] is finished," he said. "It is the anus [they use for sex], you know — I want to vomit just talking about this."
What happens next may determine not only the future for queer Indonesians, but also could make this year a turning point for the relationship between religion and state in the country.
The worst of the street violence has subsided, progressive activists say, primarily because many LGBT groups have canceled public events and gone underground to avoid new confrontations with vigilante groups. But the legal environment is growing increasingly ominous: in late August, police in a city near Jakarta announced that they had busted a child prostitution ring operating through Facebook and gay apps, renewing the urgency of calls for a government crackdown.
The Constitutional Court's hearings continue on the petition to criminalize homosexuality; no timeline for issuing a decision has been announced.
Several of the judges have made clear they're sympathetic to the petition, but it's not clear how far they're willing to push their authority. Many legal experts — and some of the justices — have said the court would be making a new law by granting the petitioners' request and violating its mandate to simply review regulations enacted by other branches of government. But the lead lawyer for the petitioners, Feisal Syahmenan, told BuzzFeed News that the case was designed to be within the court's power. All judges need to do is delete an age restriction from an existing provision criminalizing sodomy with a minor.
The court has a reputation for being political, so the case is volatile, progressive activists say. Even if they don't unilaterally change the law, the judges could recommend the proposal to the legislature, which could incorporate a sodomy law into a revision of the criminal code already in the works.
"We have a problem with the Constitutional Court, and the conservative groups and the Islamists they know that," said Alissa Wahid, who heads a network to promote pluralism in Indonesia called Gusdurian.
Wahid's father, Abdurrahman Wahid, was a Muslim scholar who lead the NU for more than a decade, and for many Indonesians he personified the ideal of Muslim citizenship in a pluralistic Indonesia. He was better known as Gus Dur — using a title that means "son of a cleric" — and in 1998 he became Indonesia's first democratically elected president. Gus Dur came to the defense of many minorities targeted by conservative Muslim factions, including waria — he joined a waria beauty pageant in 2006 when the Islamic Defenders Front tried to shut it down.
Gus Dur had worried about the "Talibanization" of Indonesia, Alissa Wahid said, and the changes in the 10 years since his death make her worry his fears are coming true.
"We have this massive campaign from the trans-nationalistic Islamic community where people are starting to be bombarded with ideas that we should be more part of a Muslim community worldwide than the Indonesian identity," Wahid said. You could see the change in social media campaigns to promote the wearing of headscarves, early marriage, and even polygamy — a practice never common in Indonesia — Wahid said.
On the national level, the authorities have endorsed campaigns against the minority Ahmadi Muslim sect, and police often allow vigilante groups to shutter churches and Shiite mosques. Local governments have also adopted dozens of Sharia ordinances concerning everything from alcohol to Qur'an reading to headscarves. Some local laws already specifically target homosexuality, according to research by the Indonesian LGBT group Arus Pelangi.
When the NU endorsed the anti-LGBT campaign in February, Wahid said she was "surprised in a way," but in retrospect, "I should have seen that coming — of course the conservative wave has also touched the NU."
The issue was also rapidly gaining traction among the public; a poll conducted in March and April by an allied progressive Muslim think tank, the Wahid Institute, found that 26% of Indonesians identified "LGBT" as their most disliked minority groups.
"You cannot think of the LGBT issue as a stand-alone issue in Indonesia," Wahid said. Conservatives "have already changed society," she said.
"This is [one of] the oldest debates in Indonesian fundamental principles: whether Indonesia should give a special mention to the Muslims because this is a majority," Wahid said.
Her father was in a long line of Indonesian Muslim leaders who fought against the creation of an "Islamic state of Indonesia because we [have lived] together with other [groups of] people for a long, long time," Wahid said. But today this vision is threatened by those who believe "there is only one way of living, and that is Islam ... their kind of Islam."
Some liberals may downplay the current uproar, believing LGBT "is just one small group," she said, but "they lack the understanding that this is a social shift."
"This is huge," she said. "It's a turning point."